The first questions to ask are, "Do you only need basic timing?" OR
"Do you need a timing service that delivers a great experience for participants and event directors?"
You want Accurate Timing? We utilize patented, state-of-the-art RFID technology our Jaguar innovative system can time races with accuracy and reliability that exceeds other chip timing systems in the world! We can use several patented chip options (disposable and non-disposable) depending on the needs.
You want your Results and Awards quickly? Our ITSYOURRACE event management platform specifically links with our timing system, greatly enhancing our capabilities over other results platforms. This allows us to stream Live online results as the action is happening. We use a TV to scroll results for quick viewing, our touch-screen Results Kiosk for personal results printouts of your participants to take home, and our automated Jaguar "Snapshot" photos ready to share on social media by your participants for FREE!
Want to improve Sponsorship opportunities?  Bring more value for sponsors with logo placements on photos (viewing impressions skyrocket) that participants can share on social media for FREE. Strategic logo and/or banner placement at the finish line, photobooth, or awards stage.
Do you want athlete targeted Publicity and Advertising? We can help get the right advertisement into RaceTimes online magazine. RaceTimes is a free publication with over half a million targeted subscribers delivered straight to their email.
Need an easy way to collect Fundraising/Donations for your cause? The ITSYOURRACE registration platform makes fundraising easy for you and participants; increasing the likelihood of garnering donations.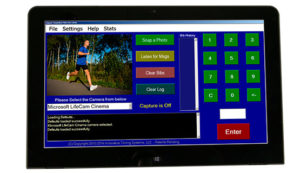 Looking for a smooth race day Registration and Packet Pickup? ITSYOURRACE is a comprehensive tool that allows us to keep online registration on; right up to the Start time. Participants can also register online using the FREE ITSYOURRACE Mobile App. It also tracks and assigns packets
Do you want to streamline your Bib Assignments and Packet Management? We can assist with building and managing race packets for your packet pickup, training volunteers and overseeing the process. By using ITSYOURRACE we can quickly assign bibs dynamically and keep lines to a minimum.
Need help designing or sourcing Bibs, Race T-Shirt, Medals, and Awards? We can work with you to design and source what you need for your event.
How about a Professional and Quality Finish Line? We bring the complete finish line ridged structural truss (using GlobalTruss System), trailer & tents for timing and all the ancillary equipment we need (e.g. generators, tables, cables, etc.).
Do you want Top-shelf Participant Experience? FREE race photos for participants, capture their race day excitement with FREE Photobooth pictures, FREE personally printed results for every participant, easily searchable online results platform, FREE mobile app, FREE emailed finisher certificate and streamlined processes.
If you just have questions or are interested in partnering with Nexus Timing, please use the contact form on this website. We look forward to the opportunity to being part of your team!